Disaster Film,
billboard series of four images, Signals in the Sea, Vancouver (2019)
Commissed by the Capture Photography Festival, Vancouver (2019) and curated by Jayne Wilkinson.
EXHIBITIONS


Synthetic Ecology, Beijing Art Technology Biennale (2022)

Signals in the Sea, Capture Photography Festival, Vancouver (2019)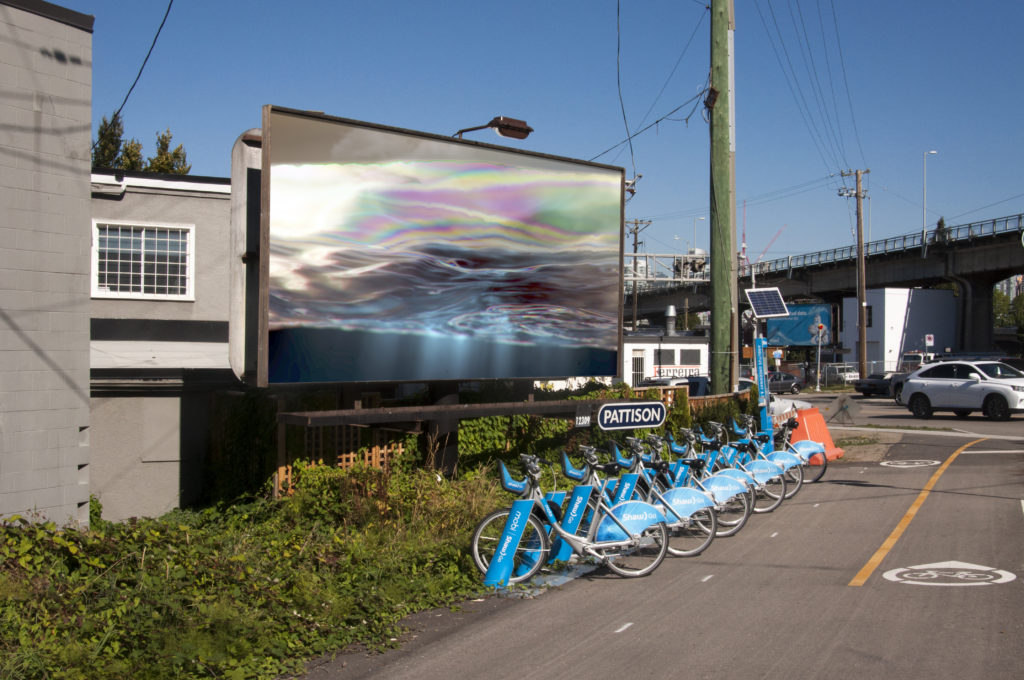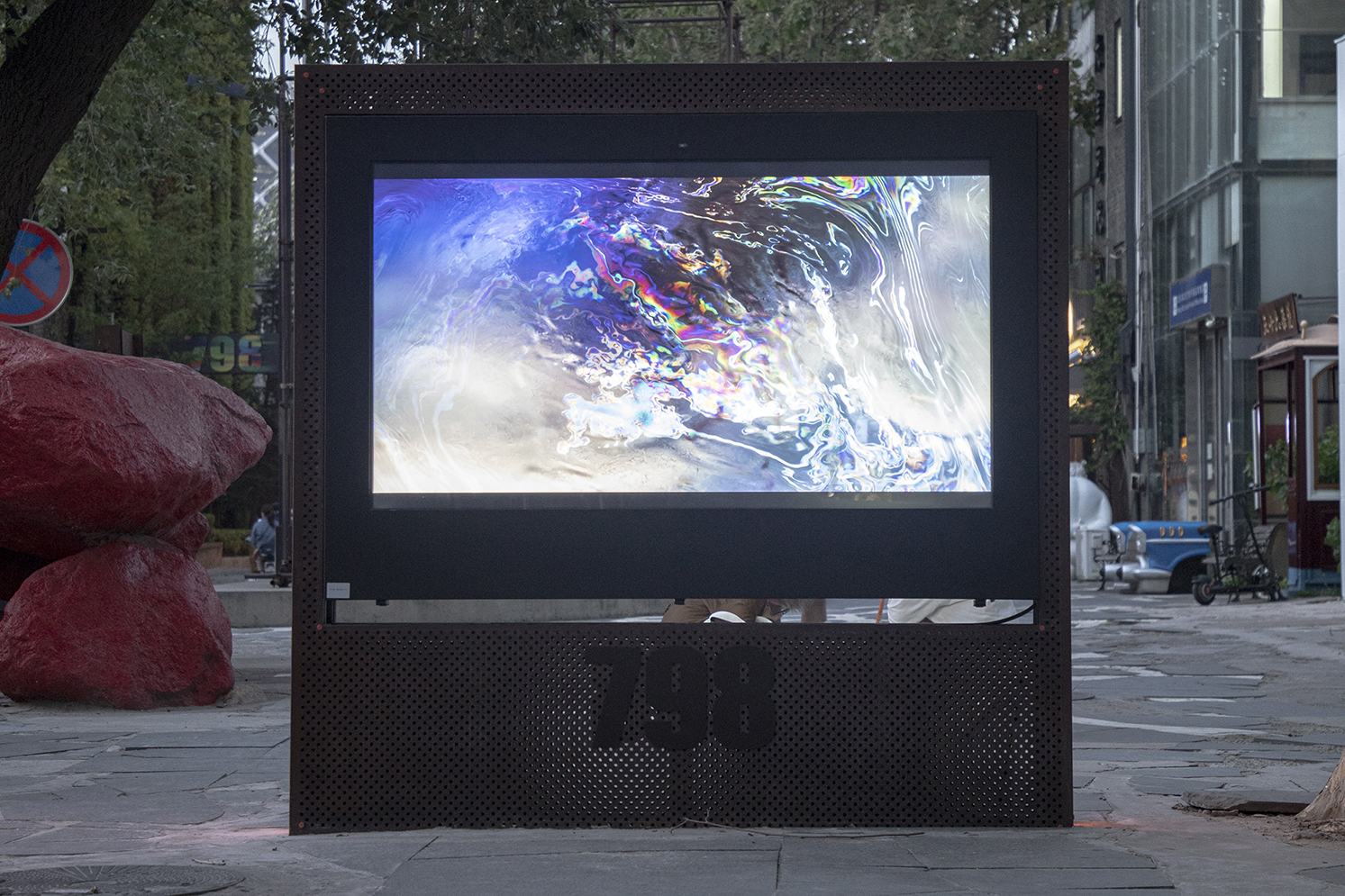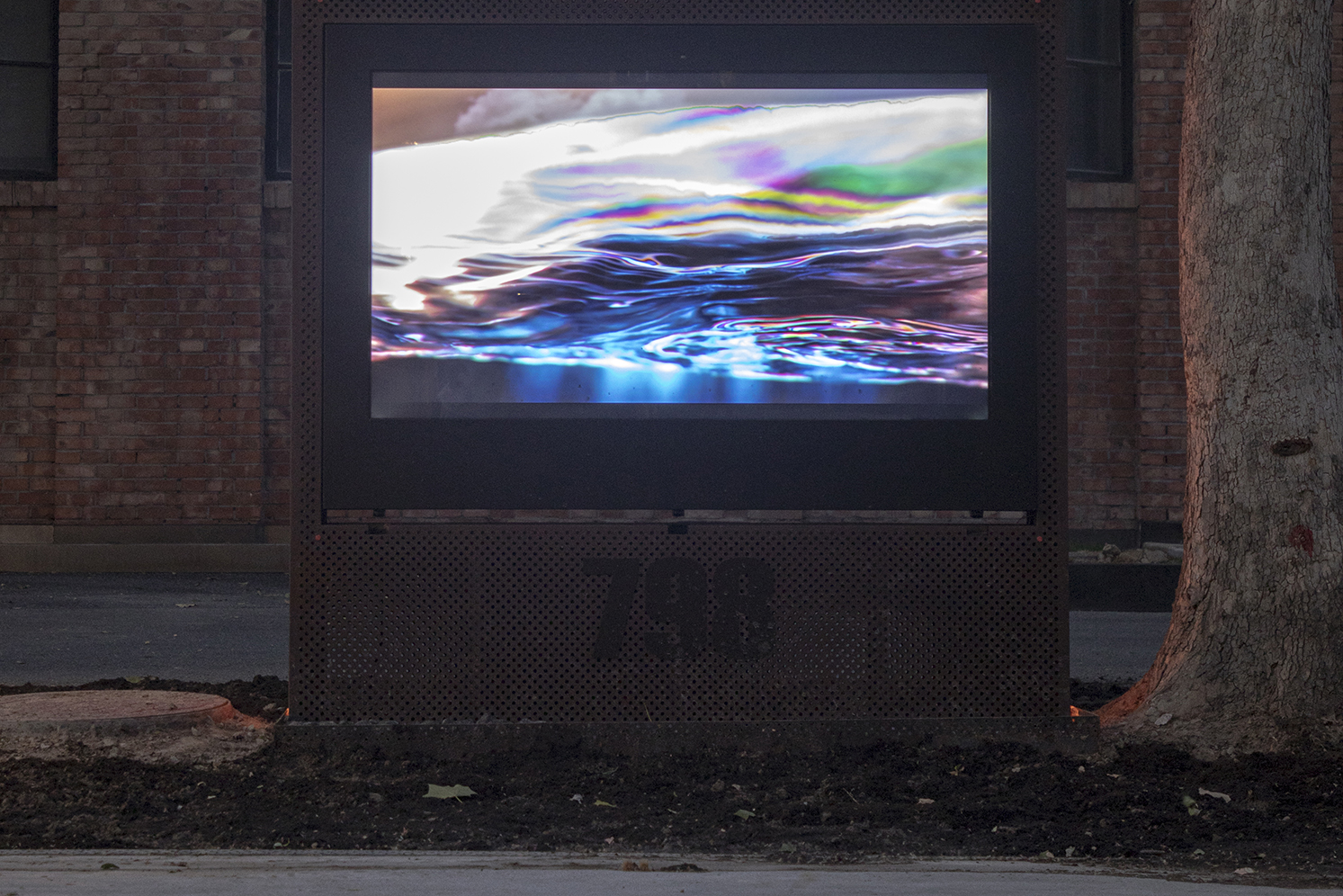 Disaster Film
(2019) adapts Schuppli's ongoing research into the material evidence of the BP oil spill, as well as environmental "accidents" more broadly. The billboard series interprets the various visualities of surfaces and depths, suggesting the multiple sites of an unfolding disaster: the underwater plume where oil gushed, the mixing of oil and water at the sea's surface, and the aerial view from above, where the oil became a rainbow pattern of refracted light. Critically, these images are not representations of the spill itself (which was a spectacular media event on its own) but are computer-generated simulations that intervene into the material context of investigation, and into the idea of the ocean as evidence.
Taken in sequence, they form a kind of "oil film" — the technical name for an oil spill — that spreads out across four billboards. The slick surface aesthetics of both oil and CGI point to the difficult beauty of matter out of place. The fear of an earth that is unruly and unstoppable, even with the most masterful of human engineering, is what the BP event signifies. But despite its destruction, it hasn't changed the number of rigs in the gulf nor the intensity with which oilproducing countries, Canada included, are pushing extraction farther and farther offshore. Our ability to represent such spaces, under heavy surveillance and protected by corporate power, might fall to the very materials we attempt to understand. Schuppli writes that we have entered "a new geo-photo-graphic era in which planetary systems have been transformed into vast photosensitive arrays that are registering and recording the rapid transformations induced by modern industrialization and its contaminating processes."¹ By combining materials-based research with media, Schuppli's work demonstrates the toxic in-between spaces of oil and water, of surfaces and depths, and of process and production.
WORKS