At some point during the evening of 20 June 1972, a conversation between two men was secretly taped on a SONY TC-800B reel-to-reel voice recorder. Tape 342, as it is officially referred to, is but one of a sprawling archive of approximately 3,700 hours of audio recordings taped surreptitiously by the late American President Richard Nixon over a period of several years.
Of the many audiotapes confiscated from the Oval Office, Tape 342 remains by far the most infamous. Not because of the shocking information it contains, but precisely because of its absence: an18-1/2 minute gap in 6h 21m 26s of recorded material. A residual silence that is still haunted by the spectre of a man who refused to speak on the grounds that such testimony might be self-incriminatory.
In 1973, Nixon's loyal secretary Rose Mary Woods testifed that she was responsible for the gap and told an elaborate story about how the telephone rang whlist she was transcribing the Tape causing her foot pedal controlled UHER tape recorder to accidentally press the wrong button and erase the tape. Her 're-enactment' of this infamous event for the federal grand jury is captured in the photo mural show here, which is more commonly referred to as the Rose Mary Woods "Stretch".
EXHIBITIONS


Overtones: On How to Listen, Goethe Institute, Ramallah (2019)

Eavesdropping, City Gallery of Wellington / Te Whare Toi, New Zealand, Australia (2019)

Eavesdropping, Ian Potter Museum of Art + Liquid Architecture, Melbourne, Australia (2018)

TALKS


Stretching the Truth, Performance lecture, Ian Potter Museum of Art, Melbourne and Brisbane Institute of Modern Art (2018)

Right to Silence The Showroom, London (25 February 2012)

WRITING


Eavesdropping Reader with an essay by Susan Schuppli discussing "Listening to Answering Machines"

Tape 342: That Dangerous Supplement, Cabinet Magazine Issue 43, Forensics

Watergate Tapes Technical Report PDF
RELATED MATERIALS


Frieze Critics' Guide to Melbourne Art Week

A Short History of Eavesdropping
Brian Hochman & Susan Schuppli / The Drawing Room, ABC Radio

Ears Have Ears / FBi Radio

Art + Australia Review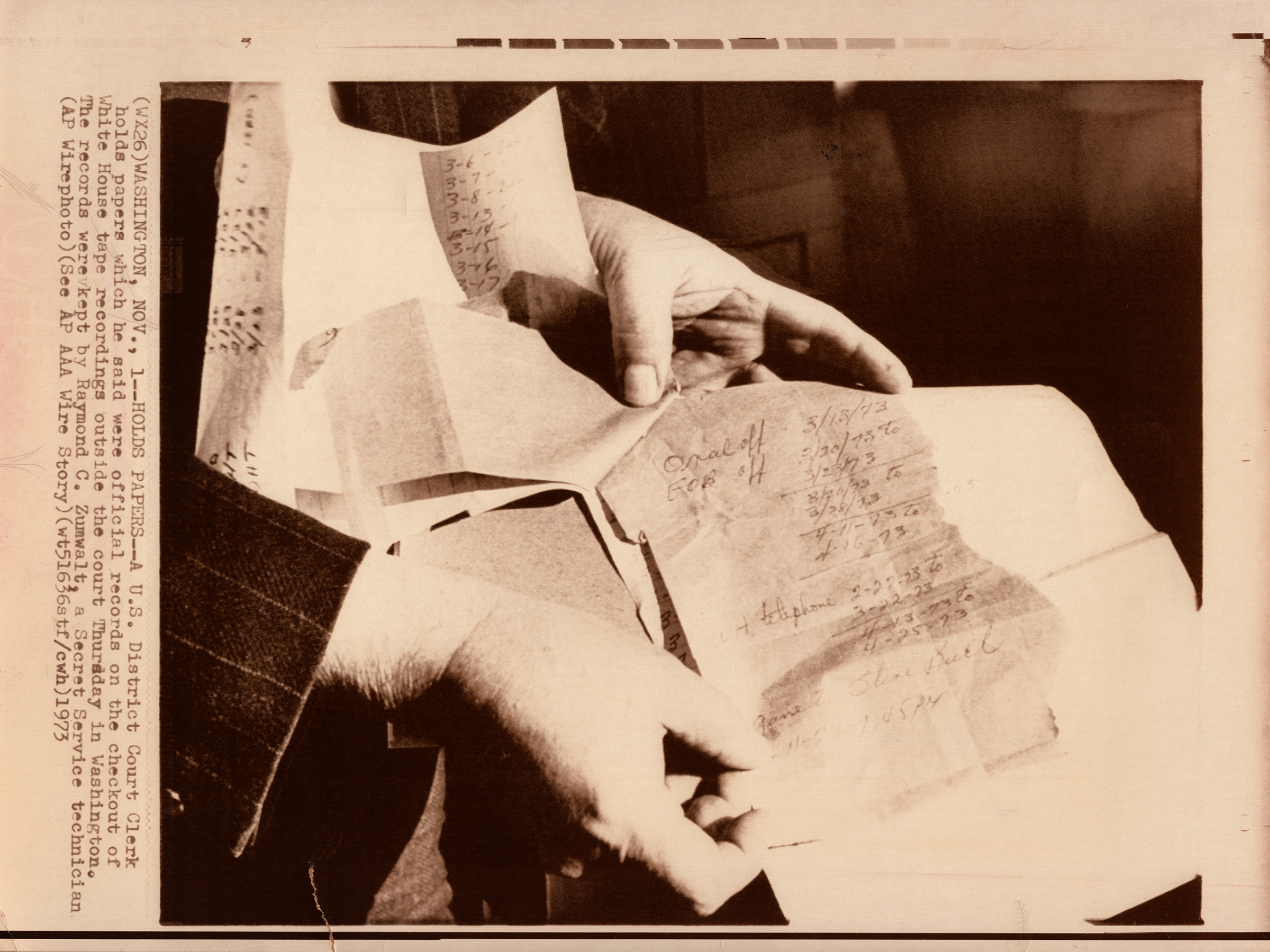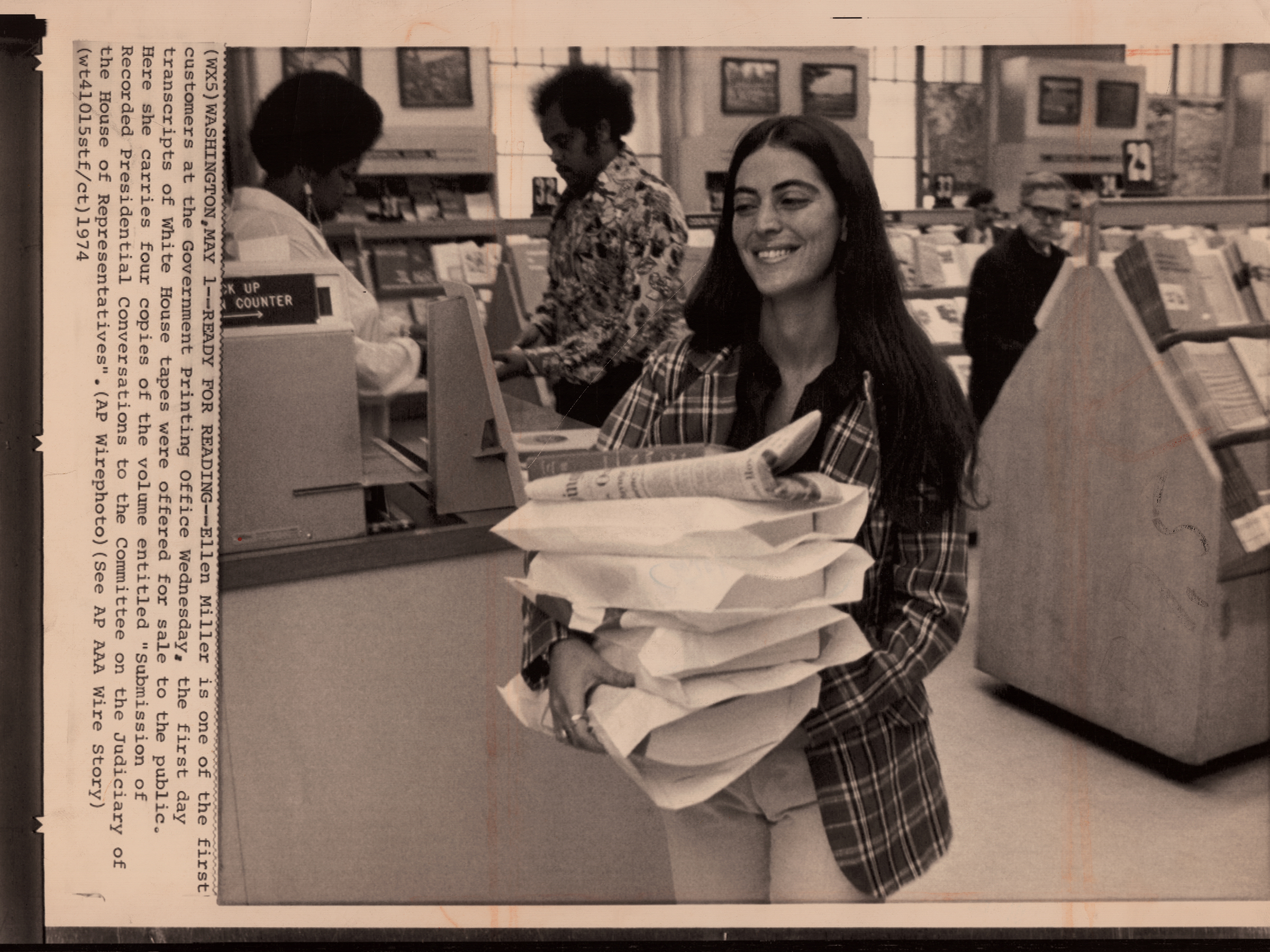 With the advent of digitisation press bureaus started dumping their wire service images en-mass. From these discarded images I've collected all that relate to the legal proceedings of Watergate Tape 342 during which 18-1/2 minutes of nosiy silence was put on trial. These archival materials are re-presented here as a photographic timeline accompanied by an audio listening station where one can listen to the actual 18-1/2 minute gap in Watergate Tape 342, which has been sourced from the US National Archives and Records Administration. More broadly speaking, this installation addresses the emergence of wiretapping and state surveillance within the political context of the 1970s, specifically around the defining events of Watergate and is thus set against the backdrop of current events in which practices of data harvesting (i.e. Cambridge Analytica / Facebook) have become commonplace.
Description:
P
hotographic timeline of fifteen digitised wire service images (24 x 20 inches each), one photomural of Rose Mary Woods (courtesy NARA, 36 x 24 inches), two wall mounted vintage Koss headphones playing the 18-½ minutes of noisy silence from Watergate Tape 342 and two technical reports May 31 1974, 87 pages).
WORKS